Louis Hayward
Actor who played Simon Templar, alias The Saint, in the Movies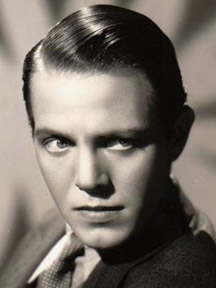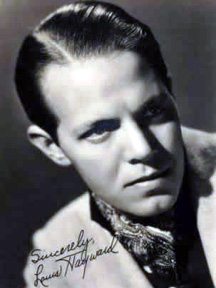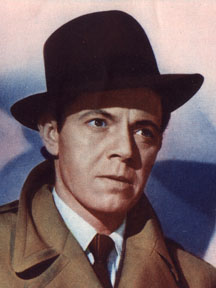 Louis Hayward played The Saint in the 1938, 1940, and 1953 movies.

An interesting side-note is that two actors who played The Saint were in the the movie, My Son, My Son. Brian Aherne stars as a self-made man, who is determined to give his son, played by Louis Hayward, the lavish upbringing he himself was denied. Not surprisingly, the son grows up spoiled rotten and causes nothing but grief and pain to everyone who loves him.
IMDB's Mini Biography
From his birthplace in South Africa, Louis Hayward was brought to England and was educated there and on the Continent. With his career not set, Hayward spent a short time managing a London nightclub. He displayed the talent and decided on acting - and he was quickly tapped by playwright Noel Coward as his patron. Matinee idol-handsome, Hayward developed acting skills as a co-star in the London staging of several Broadway plays, among them "Dracula" and "Another Language". He began his film career in the British Self Made Lady (1932) which was followed by five UK films through 1933.
Hayward came to New York and Broadway in 1935 to star in "Point Verlaine". It was his only Broadway venture, but it brought him a Hollywood contract. His first American film role was in The Flame Within (1935). After several supporting roles into 1936, he got his real break starring in the extended romantic prologue of Warner Bros.' Anthony Adverse (1936). As the dashing officer Denis Moore, he was Anthony's father, rescuing his soon-to-be mother Maria from an arranged marriage to the Marquis Don Luis, brilliantly played by Claude Rains. Shot with gauze focus in part to increase the dreamlike romantic interlude of the lovers, the prologue played to a bitter end with Hayward dispatched by luck in a sword duel with the outraged Don Luis, and Maria - now pregnant - forced to return to her husband. But Hayward had had his defining moment. He was a romantic leading man - and a swashbuckler at that. Through the remainder of the 1930s he would have ample opportunities to vary that class of character-starting with some early B tier efforts. Along with good looks he had an airy delivery of speech which worked as both hero and rogue or occasional suave villain.
The familiar British Simon Templar character was brought to the screen by Hayward in The Saint in New York (1938) to cap his B picture career. He was destined for plenty of sword point adventure. The stylish The Man in the Iron Mask (1939), the third volume in the Dumas musketeer trilogy, gave him the opportunity to play the good and evil royal twins with impressive flair. But the swashbuckling efforts did not pan out as they did for 'Errol Flynn' . The Son of Monte Cristo (1940) with Hayward spliced with 'Joan Bennett' again (together in "Iron Mask") was a Prisoner of Zenda (1937) look-alike that fell flat. Another sort of bad break was his 1941 casting with a pivotal role in Orson Welles The Magnificent Ambersons (1941) only to be edited away. With World War II, Hayward had a respite from the vagaries of Hollywood luck. For his photographic services with the Marines during the filming of the Battle of Tarawa, Hayward won a Bronze Star for his courage under fire. Overcoming the psychological stress of his war experiences, Hayward returned under the lights. Already with a few mysteries under his belt he was cast-perhaps not surprisingly-as twins in the Agatha Christie thriller And Then There Were None (1945) which was a hit. Thereafter the mix of romantic parts included yet another Monte Cristo (1946); the Robin Hood-like Robert Louis Stevenson adventure The Black Arrow (1948); and a succession of pirate parts - particularly - and unfortunately - two sequels playing Captain Blood (1950, 1952). There was also yet another twin sequel - this time a twist of the Jekyll/Hide story but with the doctor's twin sons (1951). There was also one more outing for an iron mask vehicle - this time with twin royal sisters and Hayward as a mature D'Artagnan. Amid all this blandness - and seeing double - Hayward had developed a good business sense to save his movie career. He was one of the first to incorporate the one percentage-of-profits deal for both the theatrical and TV releases of his post-1949 films, ensuring him comfortable lifelong income.
While staying with movies, Hayward ventured enthusiastically into TV, not only with some ten American playhouse theater productions and episodic TV through the 1960s but production investments of his own. In 1954, Hayward produced and starred in the 39-week TV series "The Lone Wolf" (Streets of Danger) after buying exclusive rights to several of Louis Joseph Vance's original "Lone Wolf" stories. He also produced the British series "The Pursuers" (1966) and the American "The Survivors" (1969). He bowed out of acting in the mid 1970s - not the legend of bygone hopes - but wiser and certainly comfortable.

1938 The Saint in New York
RKO Radio Pictures-USA, 69 minutes, 6273 feet. Released in the USA on June 3, 1938.

Adapted from the Leslie Charteris novel The Saint in New York (15-B27, 1935). Directed by Ben Holme. Produced by William Sistrom. Screenplay by Charles Kaufman and Mortimer Offner.

Starring Louis Hayward as Simon Templar, Kay Sutton as Fay Edwards, Sig Rumann as Hutch Rellin, Jonathan Hale as Inspector Fernack, and Jack Carson as Red Jenks.

1953 The Saint's Return
1954 The Saint's Girl Friday
Distributed in the UK by Royal Productions Exclusive Films as The Saint's Return; 73 minutes, 6583 feet. Released in the UK on October 12, 1953.
Distributed by RKO Radio Pictures in the USA as The Saint's Girl Friday; 68 minutes, 6132 feet. Released in the USA on April 15, 1954.
Directed by Seymour Friedmann. Produced by Julian Lesser and Anthony Hinds. Screenplay by Allan MacKennon.
Starring Louis Hayward as Simon Templar, Naomi Chance as Carol Denby, Sidney Taffler as Max Lennar, Diana Dors as Margie, Russell Enoch as Keith Merton, and Charles Victor as Chief Inspector Teal.

&nbsp
Louis Hayward Shop on Amazon.com
&nbsp
Other Actors Who've Played The Saint
Portrals of Simon Templar on Film in Movie Motion Pictures:

Louis Hayward, George Sanders, Hugh Sinclair, Jean Marais, and Val Kilmer

The Saint Radio shows on Old-Time Radio:

Vincent Price, Barry Sullivan, Brian Aherne, Edgar Barrier, Felix Marten, Lawrence Dobkin, Paul Rhys, Terence De Marney, Tom Conway, and Tom Meehan

Actors who played The Saint on Television TV Programs:

Roger Moore, Ian Ogilvy, Andrew Clarke, Simon Dutton, and Adam Rayner

Starring as The Saint in Photoplay:

Leslie Charteris