Brian Aherne
Actor who played Simon Templar, alias The Saint, on Radio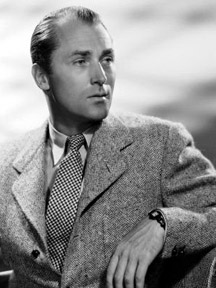 Brian Aherne played The Saint on the Radio.

An interesting side-note is that two actors who played The Saint were in the the movie, My Son, My Son. Brian Aherne stars as a self-made man, who is determined to give his son, played by Louis Hayward, the lavish upbringing he himself was denied. Not surprisingly, the son grows up spoiled rotten and causes nothing but grief and pain to everyone who loves him.

In additional Saintly trivia, Aherne published A Dreadful Man in 1979, a biography of his friend and Saint, George Sanders.
The Saint on Old-Time Radio
The Saint was first brought to life on the radio in 1940 by Terence De Marney (aka Terrance De Marney) on Radio Athlone. It was then a five-year wait before NBC picked up the option, and featured Edgar Barrier as Simon Templar, alias The Saint. Later in 1945, Brian Aherne took over the role when the show switched over to CBS. Then in 1947, probably the most famous Radio Saint of all-time, Vincent Price, added his golden voice to the role. Vincent Price was once quoted as saying the most difficult thing about the show was coming up with new and unique ways to get conked on the head. After a large number of episodes, Price finally left and his replacement Barry Sullivan only lasted a few episodes before the show was cancelled. It was resurrected due to public demand, with Vincent Price returning to save the day. In 1951, Tom Conway (George Sanders' brother), of The Falcon fame, played The Saint for the last few episodes, with Lawrence Dobkin stepping in for a single episode when Conway was unavailable. Between 1953 and 1957, Tom Meehan starred as The Saint on Springbok Radio in South Africa (in English) with fresh adaptations of the original Charteris stories. It wasn't until 1995 that the Saint returned to radio with new episodes, with Paul Rhys portraying The Saint in three scripts taken directly from the orginal Charteris stories.

Wikipedia Biography of Brian Aherne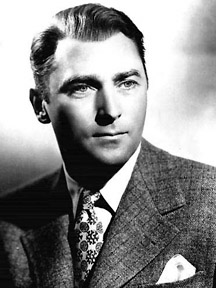 Brian Aherne (May 2, 1902 – February 10, 1986) was an English actor of both stage and screen, who found success in Hollywood.

He was born William Brian de Lacy Aherne in King's Norton, Worcestershire, the son of William de Lacy Aherne by his spouse Louise née Thomas.

Educated at Edgbaston, Birmingham, he had also carried out some early stage training at Italia Conti Academy in London and had some child roles before completing his education at Malvern College. He first appeared on the stage in Birmingham with the Pilgrim Players (which subsequently developed into the Birmingham Repertory Theatre), on April 5, 1910, in Fifinella; and made his first appearance on the London stage at the Garrick Theatre, December 26, 1913, in Where the Rainbow Ends, a fairy play by Clifford Mills and John Ramsey, with music by Roger Quilter, which ran at various theatres for over 25 years.

He then studied with a view to becoming an architect, but, having had considerable amateur experience in Birmingham, and with the Liverpool Green Room Club, he obtained an engagement under Robert Courtneidge, and appeared at London's Savoy Theatre, opening on December 26, 1923, as Jack O'Hara in a revival of Paddy the Next Best Thing, the play by W. Gayer-Mackay and Robert Ord (from the novel). He then toured with Violet Vanbrugh as Hugo in The Flame, and appeared at the London Playhouse in May 1924 as Langford in Leon Gordon's White Cargo, in which he played all through 1924-5. In 1926 he accompanied Dion Boucicault Jr. to Australia, where he appeared in several plays by J. M. Barrie: as Valentine Brown in the comedy Quality Street, John Shand in the comedy What Every Woman Knows, Crichton in The Admirable Crichton, Simon and Harry in Mary Rose; and Willocks in Aren't We All? another comedy by Frederick Lonsdale.

He reappeared in London at the Strand in March 1927 again as Langford in White Cargo and continued on the London stage in a succession of plays until late 1930 when he went to America, making his first appearance on the New York stage at the Empire, February 9, 1931, playing Robert Browning in Rudolph Besier's play The Barretts of Wimpole Street. He was back in London in 1934 but returned that year to New York, where he appeared in December at the Martin Beck Theatre as Mercutio in Romeo and Juliet, with Katharine Cornell. He continued his stage appearances during his film career, which he commenced in 1924 in silent film.

He made his talkie debut in Madame Guillotine (1931). After a few more British talkies he moved on to lead roles in Hollywood, where he made over 30 films, including I Live My Life in 1935 and The Best of Everything in 1959. In 1945, he played sleuth Simon Templar in the radio mystery series, The Saint. He also appeared in many TV theatrical series, including G E Theatre and Rawhide.

Aherne published his autobiography A Proper Job in 1969, as well as A Dreadful Man (1979), a biography of his friend George Sanders.

Between 1939 and 1945 he was married to actress Joan Fontaine, which ended in divorce. He then married Eleanor de Liagre Labrot.

Brian Aherne died of heart failure in Venice, Florida at the age of 83. A star on the Hollywood Walk of Fame remembers him, at 1752 Vine Street.

Selected Filmography of Brian Aherne
I Was a Spy (1933)
Song of Songs (1933) — his US debut
I Live My Life (1935)
Beloved Enemy {1936}
The Great Garrick (1937)
Merrily We Live (1938)
Juarez (1939) as the tragic Emperor Maximillian von Habsburg
My Son, My Son! (1939)
The Lady in Question (1940)
Vigil in the Night (1940)
My Sister Eileen (1942)
A Night to Remember (1943) (this was not the famous film about the Titanic)
The Locket (1946)
I Confess (1953)
Titanic (1953) as Captain Edward J. Smith
Prince Valiant (1954) (as King Arthur)
The Best of Everything (1959)
Susan Slade (1961)
Lancelot and Guinevere (1963) (again as King Arthur, this time a younger version of him)
Rosie! (1967)
Hal Erickson, All Movie Guide
Active in amateur theatricals from age three, Briton Brian Aherne studied for his craft at the Italia Conti School, making his professional bow when he was eight. Aherne would later claim that he remained an actor into adulthood (after a tentative stab at becoming an architect) mainly because he liked to sleep until ten in the morning. Successful on stage and screen in England, Aherne came to America in 1931 to appear in the first Broadway production of The Barretts of Wimpole Street. His first Hollywood film was 1933's Song of Songs, in which he appeared with Marlene Dietrich. Free-lancing throughout the 1930s, Aherne established himself as a gentlemanly Britisher who was willing to defend his honor (or someone else's) with his fists if needs be. Many of his roles were secondary, though he played the title role in 1937's The Great Garrick and was starred in a brace of Hal Roach productions in 1938 and 1939 (the actor wasn't crazy about the improvisational attitude at Roach, but he enjoyed the roles). He was Oscar-nominated for his sensitive performance of the doomed Emperor Maximillian in Juarez (1939). In the late 1950s, he put film and TV work aside for a theatrical tour as Henry Higgins in My Fair Lady. Off-camera, Aherne was a licensed pilot and an aspiring writer: he penned a 1969 autobiography, A Proper Job, as well as a biography of his close friend George Sanders, A Dreadful Man. At one point in his life, Aherne was married to Joan Fontaine, but he knew the honeymoon was over when, out of pique, she ripped up a collection of his best reviews. Brian Aherne was the brother of Patrick Ahearne, a character player who showed up in such films as Titanic (1953), The Court Jester (1955) and Around the World in Eighty Days (1956).


&nbsp
Brian Aherne Shop on Amazon.com
&nbsp
Other Actors Who've Played The Saint
Portrals of Simon Templar on Film in Movie Motion Pictures:

Louis Hayward, George Sanders, Hugh Sinclair, Jean Marais, and Val Kilmer

The Saint Radio shows on Old-Time Radio:

Vincent Price, Barry Sullivan, Brian Aherne, Edgar Barrier, Felix Marten, Lawrence Dobkin, Paul Rhys, Terence De Marney, Tom Conway, and Tom Meehan

Actors who played The Saint on Television TV Programs:

Roger Moore, Ian Ogilvy, Andrew Clarke, Simon Dutton, and Adam Rayner

Starring as The Saint in Photoplay:

Leslie Charteris