Edgar Barrier
Actor who played Simon Templar, alias The Saint, on Radio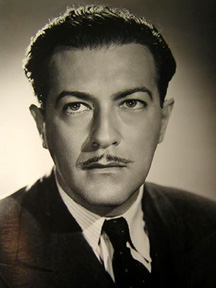 Edgar Barrier played The Saint on the Radio in 1945.

Born: March 4, 1907 in New York City, NY
Death: June 20, 1964 in Hollywood, CA
The Saint on Old-Time Radio
The Saint was first brought to life on the radio in 1940 by Terence De Marney (aka Terrance De Marney) on Radio Athlone. It was then a five-year wait before NBC picked up the option, and featured Edgar Barrier as Simon Templar, alias The Saint. Later in 1945, Brian Aherne took over the role when the show switched over to CBS. Then in 1947, probably the most famous Radio Saint of all-time, Vincent Price, added his golden voice to the role. Vincent Price was once quoted as saying the most difficult thing about the show was coming up with new and unique ways to get conked on the head. After a large number of episodes, Price finally left and his replacement Barry Sullivan only lasted a few episodes before the show was cancelled. It was resurrected due to public demand, with Vincent Price returning to save the day. In 1951, Tom Conway (George Sanders' brother), of The Falcon fame, played The Saint for the last few episodes, with Lawrence Dobkin stepping in for a single episode when Conway was unavailable. Between 1953 and 1957, Tom Meehan starred as The Saint on Springbok Radio in South Africa (in English) with fresh adaptations of the original Charteris stories. It wasn't until 1995 that the Saint returned to radio with new episodes, with Paul Rhys portraying The Saint in three scripts taken directly from the orginal Charteris stories.
Biography by Hal Erickson, All Movie Guide
In his few major film appearances, American actor Edgar Barrier exuded a professorial air, which he frequently augmented by sporting a well-groomed beard. Barrier's best acting opportunities came via his association with Orson Welles' Mercury Theatre, both in its Broadway incarnation and its radio spinoff. Welles used Barrier to good advantage in his film productions of Journey Into Fear and MacBeth; in the latter picture, Barrier plays the unfortunate Banquo, whose materialization as a ghost is one of the film's highlights. Outside of the Welles orbit, Barrier worked steadily on radio, notably in the spooky confections of Lights Out maven Arch Oboler. In 1945, Barrier starred in the radio detective weekly The Saint. Many of Edgar Barrier's film roles were brief, and often uncredited (War of the Worlds [1953], On the Double [1961] etc.); his most memorable film appearance was as the mad sportsman Count Zaroff, enthusiastic hunter of human beings, in A Game of Death (1945).
More
Edgar was born in New York City on March 4 th, 1907 and educated at Columbia University. He was a seasoned veteran of the Broadway stage before he ever went to Hollywood. Barrier became a very versatile character actor playing a wide range of suave sleuths and charming villains. He also did a variety of radio ( "The Saint" Simon Templar in 1945) and television roles. Edgar Barrier made 52 films before his death of a heart attack on June 20 th, 1964 in California. He was 57.
Selected Filmography of Edgar Barrier
Too Much Johnson (1938)
Comrade X (1940)
Eagle Squadron (1941)
They Dare Not Love (1941)
Phantom of the Opera (1943)
Adventures of Smilin' Jack (1943)
Cobra Woman (1944)
Secrets of Scotland Yard (1944)
MacBeth (1948)
Whip Hand, The (1951)
War of The Worlds (1953)
Snow White and the Three Stooges (1961)


&nbsp
Edgar Barrier Shop on Amazon.com
&nbsp
Other Actors Who've Played The Saint
Portrals of Simon Templar on Film in Movie Motion Pictures:

Louis Hayward, George Sanders, Hugh Sinclair, Jean Marais, and Val Kilmer

The Saint Radio shows on Old-Time Radio:

Vincent Price, Barry Sullivan, Brian Aherne, Edgar Barrier, Felix Marten, Lawrence Dobkin, Paul Rhys, Terence De Marney, Tom Conway, and Tom Meehan

Actors who played The Saint on Television TV Programs:

Roger Moore, Ian Ogilvy, Andrew Clarke, Simon Dutton, and Adam Rayner

Starring as The Saint in Photoplay:

Leslie Charteris